A Letter To You (Devotional)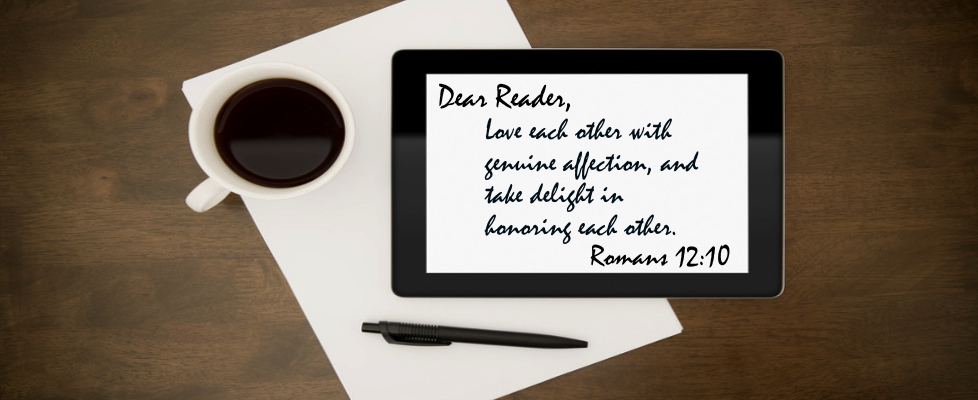 A Letter To You (Devotional)
"A Letter To You" is a series that focuses on the heart of the creative, songwriter, pop star, musician, or regular Joe. Maybe you were waiting for these exact words; if so, don't be shy, go ahead and give us some feedback below!
Dear Reader,
Did you know that God loves you? Did you know that God loves you more than you could ever know? His grace is so infinite and his mercies so sure that once you accept his love there is nothing that can separate you from him. Nothing. I know that you've had a hard week, and maybe you said some things that you wish you hadn't. Maybe you thought something so bad that you can hardly believe that came from your mind. Rest assured that God knows it all. He knows the seen and unseen. He knows the heard and unheard. Pretty scary you say? Actually, I have taken so much comfort in knowing this. It assures me that there is nothing that will surprise my father. He cannot be swayed from loving us. It's his nature. So, as you finish up your week, when you have trouble staying focused, take heed and fear not, for the Lord is with you. He is there to support you in your very time of need. And, if you do slip up, and you will, just get back to a quiet place and confess with your words what's going on. God is always there, and always understands. Did you know that Jesus was tempted in every way that we are, except without the follow-through of sin that we struggle with. Our king understands our problems. Anyway, that's a whole other can of worms for another time. If your manager starts breathing down your neck, you have a deadline for songwriting, or you can't learn a song that you thought would be easy-peasy, give it up to God, he knows and understands your every need and downfall.
So, get up and go be confident in the blood of Christ that has taken your every sin and washed them away. Live in confidence as the son or daughter you were made to be!
Your fan and brother in Christ,
Aaron